3 Reasons Why You Don't Have to be In a Relationship to identify the Harmful Effects of Porn
Cover photo by Seth Doyle. 6-minute read.
If you' re reading this, you've got a brain. And if you value your mental health and ending sex trafficking, you have reasons to care about porn, regardless of what your relationship status is.
We are Fight The New Drug, a non-religious and non-legislative nonprofit, and we educate on the harmful effects of pornography through the use of only facts, scientific research, and personal accounts. Decades of studies from major institutions demonstrate significant impacts of porn consumption for individuals, relationships, and society.
But, while our educational resources focus so much on love, sex, and healthy relationships, we know not everyone is in a romantic relationship, and not everyone is looking for one. For some, it simply isn' t in the cards right now, or they' re not interested, and that' s completely okay. So how do you fight against porn and fight for love if all that romantic love stuff doesn't really apply to you?
Related: The Problem With Saying "I Watch Porn Because I'm Single/Can't Get A Relationship"
Here' s the good news: porn isn' t an issue only those in romantic relationships can care about—it' s an everyone problem, regardless of relationship status. Porn can strongly affect individuals and their non-romantic relationships, and it is heavily associated with sex trafficking. So even if you're currently solo, you have reasons to fight an exploitive industry that' s toxic for our society.

Porn can hurt your mental health
"The more one uses pornography, the more lonely one becomes, " says Dr . Gary Brooks, a psychologist who has worked with porn addicts for the last 30 years.[1]"Anytime [a person] spends enough time with the usual pornography usage cycle, it can't help but be a depressing, demeaning, self-loathing kind of experience. "[2]
The worse people feel about themselves, the more they seek comfort wherever they can get it. Normally, they would be able to rely on individuals closest to them to help them through their hard times—for someone without a partner, that would be a friend or family member. But most porn consumers aren't exactly excited to tell anybody about their porn habits. So they turn to the easiest source of "comfort" available: more porn.
Related: 6 Ways Ditching Porn Can Improve Your Dating Game
Studies have found that when people engage in an ongoing pattern of "self-concealment, "—which is when they do things they're not proud of and keep them a secret—it not only hurts their relationships and leaves them feeling lonely, but also makes them more vulnerable to psychological issues. [3]For both male and female porn consumers, their habit is frequently accompanied by problems with anxiety, body-image issues, poor self-image, relationship problems, insecurity, and depression. [4]
But wait, all of these issues sound like they come from people who feel shame about their porn habits. Does shame create all the harms we see studies finding related to pornography use? No . If we were to get rid of the shame, that would get rid of the issues, right? No, again.
Related: 5 Ways Your Porn Habit May Be Harming Your Mental Health
The best studies show us that while shame can intensify the negative effects of porn, it doesn't create or explain all of those effects. For example , in one study, researchers found that shame accounted for only 33% of the predictive variance in compulsive porn use levels. [5]In another study, researchers at UCLA, discovered that shame was not a significant predictor of compulsive pornography use on its own. Rather, anxiety and depression was a significant mediator. But, even when shame and depression were included together, this study found that they could only predict 37% of the variance in compulsive porn use levels. These studies suggest that there is a lot more going on with harmful porn consumption patterns than simply shame. [6]
Shame clearly makes things worse, but it doesn't explain all that is going on for people who struggle with porn. Porn is harmful for the consumer even apart from shame regardless of their relationship status.

The dark reality of porn
An argument we often hear from porn defenders is that porn is safe and healthy to consume because the performers give their consent.
But do they? Do we know for sure that anyone in any porn content gave their consent?
Defenders of pornography make this argument all the time, that no matter how a man or woman is treated in porn, it's ok because they gave their consent. [7] But what if they didn't? What if they really didn't desire to be painfully dominated, humiliated, and sexually used for the world to see? The truth is, there's usually much more going on than what you see on the screen. That is, perhaps, the porn industry's biggest, darkest secret: it's not all consensual .
Related: When I Realize Porn Is Tied To Sex Trafficking, I Had To Stop Watching
In porn, the question of consent can be tricky (and the growing phenomenon of amateur porn makes it even trickier). For example , if one of the participants doesn't know there's a camera running, then the porn is not consensual, even if the sex is. Right? Imagine if a person consented to be filmed, but not to have the film shown to anyone else? What if someone manipulated their partner in to being filmed in the first place, like making him or her worry that they'd blackmail them should they didn't cooperate? Or what if a person agreed to have sex, but in the middle, their partner suddenly started doing something that the one who initially gave consent didn't expect? Did he or she still give consent?
The point is, when you consume porn, there's no way to know what type of "consent" the actors have given. You can't assume, just because someone appears in a porn video, they knew beforehand exactly what would happen or that they had a real choice or the capability to stop what was being done.
"I've never received a beating like that before in my life, " said Alexandra Read after being whipped and caned for 35 minutes. "I have permanent scars up and down the backs of my thighs. It was all things that I had consented to, but I didn't know quite the brutality of what was about to happen to me until I was in it. "[8]
Did you catch what Alexandra said there? "It was all things that I had consented to. " That's the problem with treating consent like it's "all-or-nothing. " She consented to do X. She didn't consent to do X, Y, and Z².
We're maybe not claiming that all porn is non-consensual. We're just pointing out that some of it really is and some of it isn't, and when you watch it there's no way to know that is which.
Therefore , would you buy from a company in the event that you knew that some, but not all, of their products were made with child labor? Would you support a store that abused some, but not all, of their employees?
How can it be ethical to say that "porn is okay because participants give their consent, " whenever we know for a fact that some—probably much more than you think—do not?

Porn changes the way you see people
Regardless of romantic life, we interact with different people each and every day. Porn discards the humanity of individuals, offering them as products to be consumed instead of people to be loved and known. One of the negative effects of porn is that the constant consumption of it can distort the way consumers see other folks, causing them to regard people as a amount of body parts.
Related: Can Porn Change The Way You Experience Healthy Human Connections?
A study by Princeton psychologists showed a group of men pictures of males and females, some barely clothed and some not. During the study, the psychologists monitored their medial prefrontal cortex (mPFC), which is involved in recognizing human faces and distinguishing one person from another. For the most part, the mPFC was activated with each picture. However , when the men viewed the images of sexually dressed women, it was not activated. Basically, the automatic reaction in the men's brains shows that they didn't perceive the ladies as fully human. Just as a body.
When we are shown sexualized images, our bodies are conditioned to ignore the person and just see the body. There is no doubt that this is having a negative effect on individuals, relationships, and society as a whole. Additionally , it could cause problems in the relationships of your own life, like with your family and friends. But, there' s good news: you don' t have to let it.

Why This Matters
The effects of pornography are everywhere; it affects all of us, whether we are in a relationship or not.
Related: 6 Reasons Why People Who Don't Watch Porn Are More Content with Life
Porn has the potential to negatively affect mental health, it supports sexual exploitation, and it promotes objectification. The harms of porn don' t discriminate based on what' s going on in your love life. Whether your relationship status is single or not, you've got a reason to fight against the toxic industry in our society. Will you join us?
Need help?
For those reading this who feel they are struggling with pornography, you are not alone. Check out our friends at Fortify, a science-based recovery platform dedicated to helping you find lasting freedom from pornography. Fortify now offers a free experience for both teens and adults. Connect with others, learn about your compulsive behavior, and track your recovery journey. There is hope—sign up today.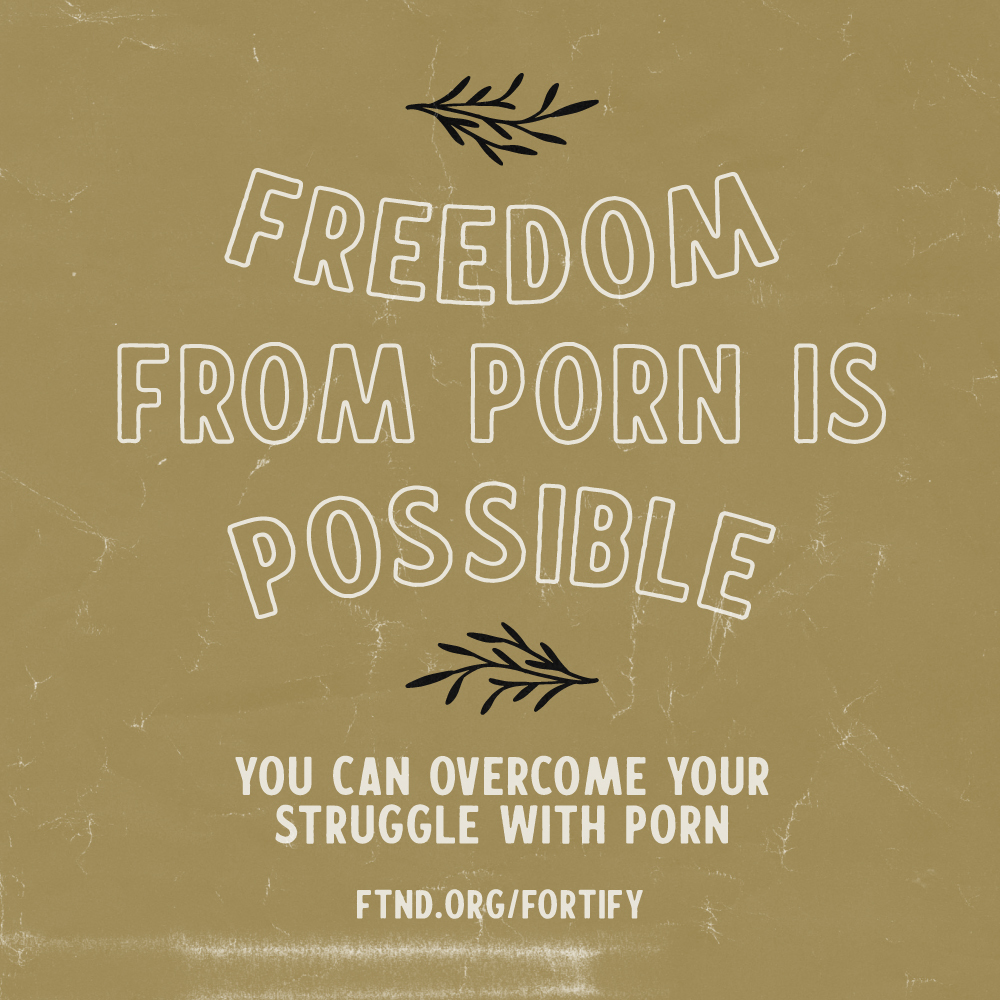 Citations
[1] Brooks, G. R., (1995). The centerfold syndrome: How men can overcome objectification and achieve intimacy with women. San Francisco: Bass. Cited in Yoder; V. C., Virden, T. B., & Amin, K. (2005). Internet Pornography and Loneliness: An Association? Sexual Addiction and Compulsivity, 12, 19-44. doi: 10. 1080/10720160590933653
[2] Interview with Doctor Gary Brooks, Oct. 23, 2013.
[3] Laird, R. D., Marrero, M. D., Melching, J. A., and Kuhn, E. S. (2013). Information Management Strategies in Early Adolescence: Developmental Change in Use and Transactional Associations with Psychological Adjustment. Developmental Psychology, 49(5), 928–937. doi: 10. 1037/a0028845; Luoma, J. B., et. al. (2013). Self-Stigma in Substance Abuse: Development of a New Measure. Journal of Psychopathology and Behavioral Assessment, 35, 223–234. doi: 10. 1007/s10862-012-9323-4; Rotenberg, K. J., Bharathi, C., Davies, H., and Finch, T. (2013). Bulimic Symptoms and the Social Withdrawal Syndrome. Eating Behaviors, 14, 281–284. doi: 10. 1016/j. eatbeh. 2013. 05. 003; Frijns, T. and Finkenauer, C. (2009). Longitudinal Associations Between Keeping a Secret and Psychosocial Adjustment in Adolescence. International Journal of Behavioral Development, 33(2), 145–154. doi: 10. 1177/0165025408098020
[4] Flisher, C. (2010). Getting Plugged In: An Overview of Internet Addiction. Journal of Paediatrics and Child Health 46: 557–559. doi: 10. 1111/j. 1440-1754. 2010. 01879. x; Layden, M. A. (2010). Pornography and Violence: A New look at the Research. In Stoner, J., & Hughes, D. (Eds. ) The Social Costs of Pornography: A Collection of Papers (pp. 57–68). Princeton, NJ: Witherspoon Institute; Kafka, M. P. (2000). The Paraphilia-Related Disorders: Nonparaphilic Hypersexuality and Sexual Compulsivity/Addiction. In Leiblum, S. R., & Rosen, R. C. (Eds. ) Principles and Practice of Sex Therapy, 3rd Ed. (pp. 471–503). Ny: Guilford Press.
[5]Gilliland, R., South, M., Carpenter, B. N., & Hardy, S. A., (2011). The Roles of Shame and Guilt in Hypersexual Behavior, Sexual Addiction & Compulsivity, 18, 12-29. doi: http://dx.doi.org/10.1080/10720162.2011.551182
[6]Reid, R. C., Stein, J. A., & Carpenter, B. N. (2011). Understanding the Roles of Shame and Neuroticism in an individual Sample of Hypersexual Men. The Journal of Nervous and Mental Disease, 199 (4), 263-267. http://dx.doi.org/10.1097/NMD.0b013e3182125b96
[7] Whisnant, R. (2016). Pornography, Humiliation, and Consent. Sexualization, Media, & Society, 2(3), 1-7. doi: 10. 1177/2374623816662876; Dines, G., (2010). Pornland: How porn has hijacked our sexuality. Boston, MA: Beacon Press; Dworkin, A., (1980). Pornography: Men possessing women. New York, NY: Penguin Books.
[8] Collective Shout (2014, July 24) The Sex Factor: Mainstreaming and normalising the abuse and exploitation of women. Retrieved from https://www.collectiveshout.org/the_sex_factor_mainstreaming_and_normalising_the_abuse_and_exploitation_of_women
The post 3 Explanations why You Don't Need To Be In a Relationship to Recognize the Harmful Effects of Porn appeared first on Fight the New Drug.